Dog Lover's Daily Companion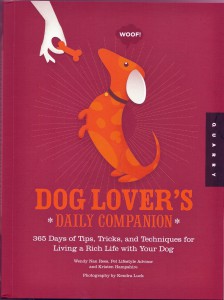 In the Dog Lover's Daily Companion, Pet Lifestyle Advisor™ Wendy Nan Rees shares her invaluable knowledge gleaned from over 25 years in the pet industry. This unique, irreplaceable, easy-to-use—and inspiring— handbook is filled with 365 helpful tips, easy-to-build projects, practical advice, and insight into the canine-human relationship. Dog Lover's Daily Companion provides a lifetime's worth of practical tips for living with your dog, no matter the breed. Wendy brings her expertise, and genuine love for dogs, to every topic under the sun needed to raise a healthy puppy into a happy adult dog. Using the 365-day-of-the-year, "devotional" style format popular today, it is the perfect reference for all dog owners to use every day of the year in the day-to-day life of owning and living with a dog.

The Natural Pet Food Cookbook
The Natural Pet Food Cookbook: Healthful Recipes For Dogs And Cats gives you great ways to supplement your pet's primary diet with nutritious meals that you prepare; that way, you're sure your dog or cat gets healthy variety. With nn emphasis on natural ingredients and lots of colorful, fun illustrations, this cookbook gives you:
* More than 50 vet-approved, pet-tested recipes, ranging from basic kibble to casseroles to stews
* Tips on cooking techniques, food selection, and more
* Info on storing and freezing your homemade pet foods
* Details about the nutritional requirements of dogs and cats
* Warnings about potentially harmful foods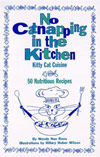 No Catnapping in the Kitchen
Follow the adventures of Lola and Tara as they travel the world and share their favorite cat food recipes of each region. Enjoy creating special unique meals for your cat with the over 40 recipes in this wonderfully illustrated and fun cat cookbook.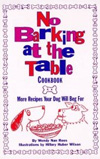 No Barking at the Table Cookbook
Webster and Max share their favorite recipes through various special occasions during the year. Liven up your dog's diet with the over 50 recipes in this delightfully illustrated dog cookbook.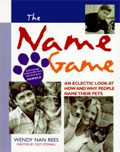 The Name Game
An Eclectic Look at How and Why People Name Their Pets
This is a look at the warm, wacky and wonderful names we give our pets. The first section is a collection of anecdotes about people and their pets, from celebrities to the people next door, each with a superb black-and-white photo of the person with his or her pet (108 photos). The second section contains hundreds of names for anyone still dreaming up the perfect title for the four-legged member of the family.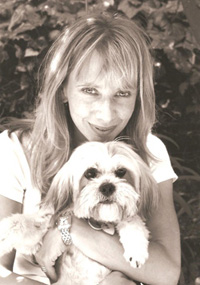 Rosanna Arquette and BISOU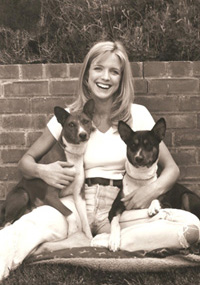 Courtney Thorne-Smith with
George and Ed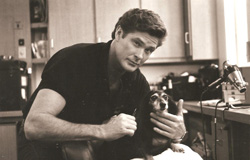 David Hasselheff and WIENER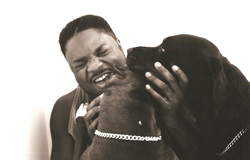 Malcolm-Jamal Warner with MECCA & MAKEBA