Pupsicles: "For Hot Days, Although Our Boys & Girls Love Them Any Day".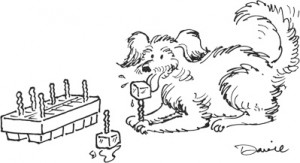 This recipe is quick, easy and great fun!! Probably best served outside to avoid stains on the carpet.
INGREDIENTS:
2 cups Low Salt Beef, Chicken or Flavored Broth of your choice
2/3 cup water (On very hot days, mix some Gatorade with water to help hydrate your pet.)
2 to 4 Ice Cube Trays (Use any shape you want to make it fun.)
MIX: Water & Broth
POUR: Liquid into ice trays
Place: Trays into freezer. When halfway frozen, place a Popsicle stick into each cube. (Maybe try a beef jerky, rawhide stick, any healthy stick will do.)
VARIATIONS:
Add 1/2 cup fresh blueberries, chopped.
Add 1/2 cup dried fruits, chopped.
Add 1/2 cup dried beef, chopped.
BREATH-SICLE VARIATION: Add 1/2 fresh parsley, chopped; 1/2 cup fresh mint, chopped; 1/4 cup apple, chopped, and 1/4 cup fresh celery, chopped.
Mix all ingredients together. Add to broth & water mix, and freeze as in above recipe.
I find this to be one of the best treats ever for my boys. When it is hot and I cannot get the boys to drink, all I do is open up the freezer and the boys are sitting with smiles on.
Enjoy your Pupsicles.